Remembrance Assembly with special guests
Today we held two very special Remembrance Assemblies with some important invited guests...
Meadow Vale Primary School warmly welcomed veterans from the Binfield branch of The Royal British Legion to two special Remembrance Assemblies on Friday 8th November, one for Lower School and one for Upper School. Each assembly began with a ceremonial welcome of the Standards which included the flags of the 3rd Binfield Brownies and the 4th Bracknell Sea Scouts. The 3rd Binfield Brownies sang to everyone in the lower school assembly, which took place first.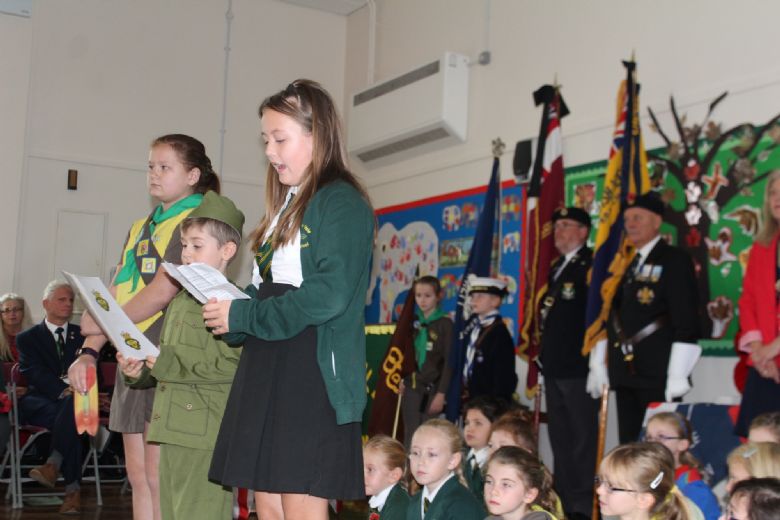 Prayers and readings were delivered, and to mark the 75th anniversary of D-Day, they included a recount of General Eisenhower's speech which was delivered to Allied soldiers taking part in the D-Day invasion on 6th June 1944.
One of our invited veterans, Mr Len Burritt, was sadly unable to join us for our assemblies today; Len, one of the original 'Desert Rats' served in many conflicts during the Second World War, and has recently celebrated his 101st birthday! Our very best wishes are sent to Len from everyone at Meadow Vale. Year 2 pupil Harley, dressed as a soldier, recounted stories from Len's life as an active participant in many World War 2 conflicts including the D-Day landings in Northern France.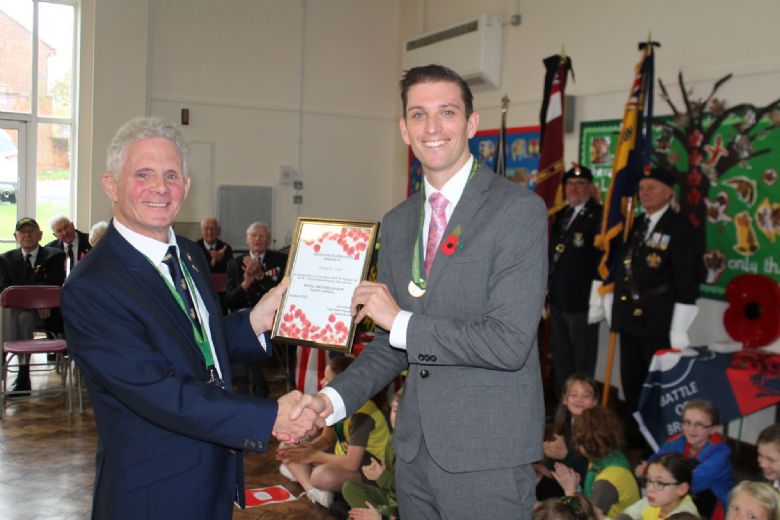 John Anderson, organiser of the Poppy Appeal Binfield, thanked everyone at Meadow Vale for the fantastic support we give by buying poppy merchandise every year. Last year we raised a total of £1363.78 and this money directly supports members of the British armed forces and their families. John presented a certificate of thanks to the school. We look forward to finding out how much we have raised in this year's appeal. Our great fundraising track record means that Meadow Vale has been recognised by the Royal British Legion and we are now officially affiliated to the Binfield branch which will provide us with more opportunities to help with fundraising and other projects. Mrs Coles and Mr Freeman signed the certificates on behalf of our school which confirm our affiliation.
A poppy wreath was laid on behalf of Meadow Vale children and the Last Post heralded a 2-minute silence; time for everyone to give thanks and to reflect on the meaning of this special service.
Following the lighting of a remembrance candle by four generations, the children sang a song (to the tune of 'Sing' made popular by the British Military wives) which Mrs Hatt had re-written to commemorate the D-Day landings story. The words are beautiful and the singing was outstanding, a fitting way to end our Remembrance Assembly.
Our special thanks go to the members of the Binfield branch of The Royal British Legion who joined us in school today, and to Mrs Karen Hatt who co-ordinated the arrangements. Several pupils representing Meadow Vale will also attend a service at the Binfield War Memorial, at St Mark's Church on Saturday 9th November. CLICK HERE to see the photos.