Superschools Success!
A great day of sporting activity was enjoyed by everyone on Wednesday 28th November, when Superschools came to Meadow Vale!
What a fantastic day we had with Superschools on Wednesday 28th November! Mr Collin organised this very special day to help raise money for our school by promoting more active, healthier lifestyles through sport. The money raised through sponsorship will be used to purchase sports and activity equipment for our school. Grant Fielder, freeride mountain biker, did an assembly a couple of weeks before the event to tell everyone all about it and what to expect on the day. He also delivered the very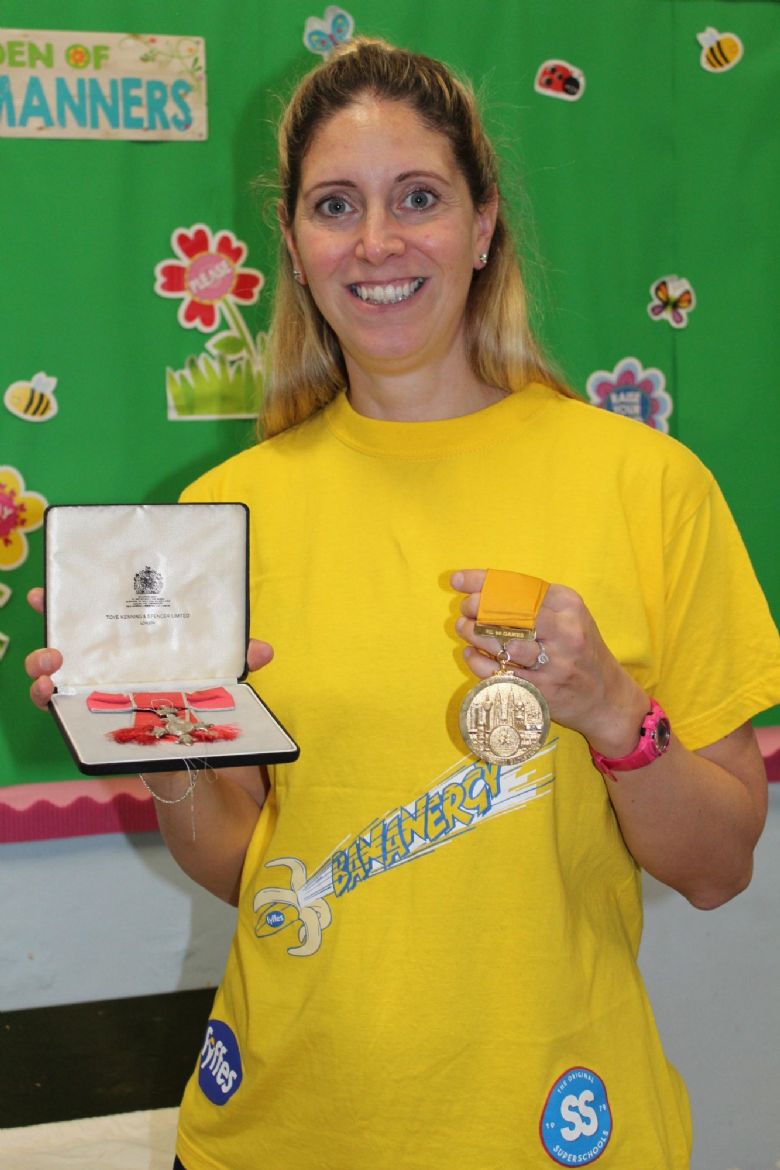 exciting news that Katy Sexton,MBE, would be coming along and everyone would have their photo taken with her! Katy became the first British swimmer to win a World Championship title when she won the Women's 200m backstroke at the 2003 World Championships. She is twice an Olympian and has represented Great Britain in 4 World Championships, the first in 1998 when she was just 16 and in 3 Commonwealth Games. She received an MBE when she was only 21 years old!
Every child took part in the Superschools activities, from Reception to Year 6, having been encouraged to get sponsors from home. The Upper School Hall was set out with 5 activities and a team of Year 6 helpers did an amazing job, assisting Julian Golley (triple jump gold medallist at the 1994 Commonwealth Games) with instructions and demonstrating how to do each activity. These ranged from jumping up and down on the spot, running on the spot, spotty dog(!), star jumps, push-ups, knee push-ups, etc. Mrs Jenkins did a great job organising each class to come to the hall at the right time; after a photo with Katy, the children were given their instructions and began their activity, moving on to complete them all with a short rest in between. This event was sponsored by Fyffes Bananas and at the end everyone was given a banana for some extra Bananergy!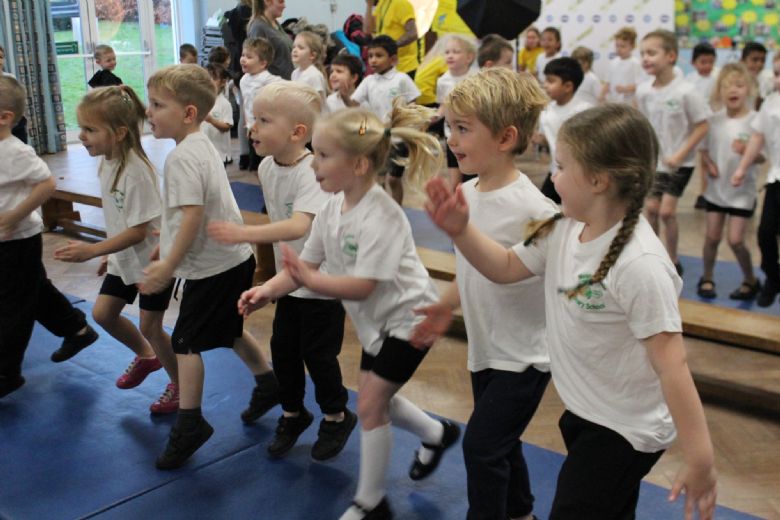 After a great morning of activity and a lunch break, we came back together for a final assembly led by Katy Sexton, MBE who shared her own story and swimming successes with us. We even got to watch the video of her winning her World Championship title in 2003 – it was amazing! Katy showed us her gold medal and it was passed around amongst the children for them all to see. She also showed us her MBE. We all had a great day with Superschools – what a great way to encourage a healthier, more active lifestyle and inspire the next generation of young athletes!
Well done to everyone! CLICK TO SEE MORE PHOTOS!