READING STAR CHALLENGE!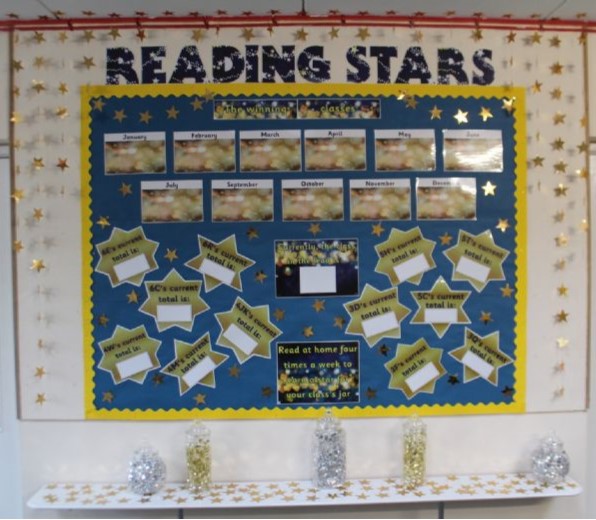 Here at Meadow Vale, we want the children to reach for the stars… the reading stars! We would like to encourage your children to read at least four times a week at home and for you to write this in their reading diary. Each week they achieve this, they will earn a star for their class's jar. The class with the most stars at the end of the month will win themselves a reward of their choice. We would appreciate your help with supporting your child with this exciting challenge at home.
We will post photos of the winning classes each month in our Gallery.
February 2019 Winners!
Monday saw the crowning of our first Reading Stars – congratulations to 2R and 3Q! For their reading reward, both classes have chosen to test their Masterchef skills in a cookery lesson; I look forward to seeing (and maybe even tasting!) their culinary creations next week.
March 2019 Winners!
Well done 5T and the Badgers class for being our March Reading Star Winners! This month, 5T collected a phenomenal 100 stars in their jar and Badgers were not far behind with an amazing 93!
April 2019 Winners!
Congratulations go to 5H and 2R for being our reading superstars this month! A special well done goes to 2R who have won the challenge for a second time! Amazing work, 2R!
May 2019 Winners!
The two classes that earnt first prize in our reading stars challenge this month are 5C and the Badgers class! Between them, the classes earnt a massive 175 stars! Well done!
June 2019 Winners!
This month, our winners are 3Q - who earned a massive 64 stars for their jar - and the Badgers class - who earned an even more phenomenal 84 stars! A special well done to the Badgers class who have now won the challenge three times!
September 2019 Winners!
At the start of the new academic year, the competition to win the Reading Stars challenge was fierce – in Key Stage 2, 6R were narrowly beaten by only two stars! Congratulations go to 6E and 2Q for winning the challenge this month. After much deliberation, 2Q have decided to buy a selection of wet play games as their reward and 6E will spend a lesson honing their board game skills.
October 2019 Winners!
This month is a month of two firsts – a winning score of over 100 stars and our first joint winners. Congratulations go to 6E who won the Key Stage 2 challenge with a jaw-dropping 105 stars and to 2Q and 2B for collecting 78 stars each! Both 2B and 2Q have decided to celebrate by purchasing some new wet play games ready for the times when the wintery weather stops them from enjoying the outside and 6E have decided to refine their art skills during an activity of the class's choosing.
November 2019 Winners!
This month, congratulations go to the Badgers class for winning the EYFS and KS1 challenge with a score of 78 stars and 6E, who not only have won the KS2 challenge for a third month in a row, but also collected 110 stars – the highest score to date! Well done Badgers and 6E! Both classes are going to celebrate by getting creative with their culinary skills - the Badgers class will be decorating delicious Christmas snowmen biscuits and 6E will be making their own festive treats!