Week 05 (week beginning 4th May)
On Friday 8th May, we will be celebrating VE day. VE day stands for Victory in Europe and this is when Germany surrendered and World War II (2) ended in Europe. This year it is a special celebration because it has been 75 years since this happened.
This week you are going to learn a bit about World War Two and VE day and build up to your own celebration at home.
Monday- If possible, I would like you to watch the video on this link:
https://www.mrtdoeshistory.com/ve-day-key-stage-1
It will tell you all about when and why the war happened, as well as how people celebrated VE day. The video is just under 20 minutes long so you could pause it at different times to think about what the man is saying. You could also make some notes if you want to (think back to all the learning we did about writing down key information) - this always helps me when I am learning something new.
He talks about a table to put information in too - he shows you what it looks like so you can draw it into your book. I have put an example below if you would prefer to print it off if you are able to.
Please don't worry that the video says key stage 1. I have watched both videos (KS1 and KS2) and feel that this one is the most appropriate - KS2 is for children all the way up to year 6 and is quite tricky.
Tuesday - Rationing was really important during and after the war (it didn't finish until 1954!).
Rationing was when families were only allowed to buy a certain amount of food so that there was enough for everyone. You may have seen this a little bit recently as some shops will only let you buy 1 or 2 of certain items.
Below you will find what each adult and child was allowed for one week, example meals for a whole week and examples of recipes people used during the war.
Imagine you own a restaurant and create a menu.
You could either offer a breakfast, a lunch and a dinner OR a starter, a main and a desert. You could have 2 options to choose from for each section if you want a challenge.
Remember to make your menu eye-catching, colourful and include pictures - you want people to come in after all!
Wednesday - Now is the time to create some decorations for your celebration. Will you be celebrating in your garden? Your living room? Your bedroom? Collect red, white and blue objects to represent the union jack, or make your own decorations. There is a bunting template below that you can copy/print to decorate if you like. I have even seen someone paint the union jack onto an old bed sheet!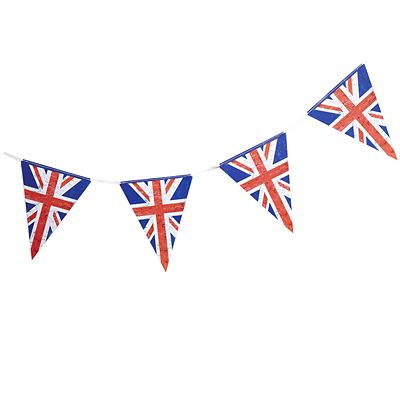 Thursday- The VE day celebrations are tomorrow (Friday 8th May) so that has been made a bank holiday. This means we won't be setting you any learning. It is up to you whether you have your celebrations today or on the actual day tomorrow.
Set up your decorations in your chosen celebration space and have a 'stay at home street party'. You could have a picnic (inside if you don't have a garden). You don't need any special food for this - just use what you were already going to have for lunch or dinner. It can be fun spreading a blanket and eating your normal food whilst sitting on the floor! You could also put some war time music on. There are many playlists on Youtube and Spotify, such as: https://www.youtube.com/watch?v=cHcunREYzNY&list=PLTjiNnshvB2YhIwMd2ZqG03ATcIy7aAaZ